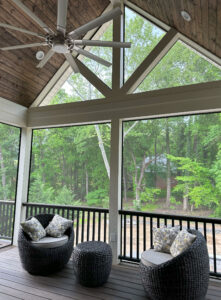 We recently completed a deck and porch project which transformed an existing deck into a stunning outdoor living space. One of the biggest complaints about the original deck was that it was only accessible from inside the home. So, if you were in the backyard you had to go through the house to get to the deck and vice versa.  The project included creating a screened-in porch, adding stairs to lead down to the backyard, and adding electrical and AV upgrades to make it more suitable for entertaining.
We started off by stripping the deck to the main framing and floor system. Then we added a beautiful vaulted roof over half of the existing space to create a covered porch. We constructed a set of steps to access the deck/porch from the ground level. Next, we added Trex Rainscape, which is a sealed membrane to block off the space below the deck from any water. We installed  Trex Transcend decking and a handrail system, which is an excellent product that we frequently recommend. The finishings included running AV and electrical lines to provide power for TVs, outdoor speakers, lighting, and fans in the porch and below deck.
If you would like to revamp an existing deck or add a deck or porch on to your home, contact us today. We look forward to discussing your project with you!
After
Before