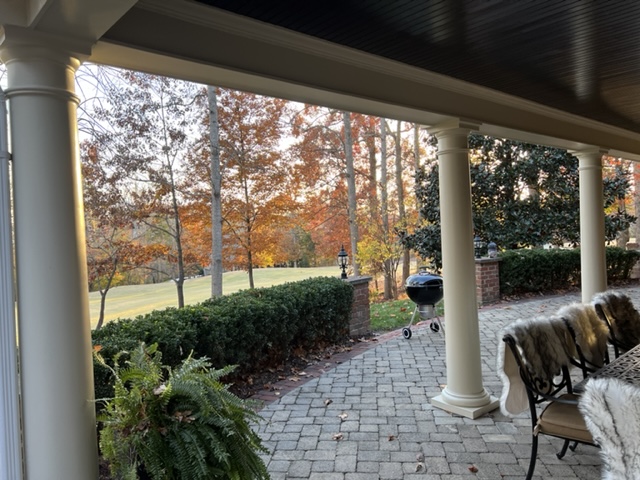 We recently added a 42'x14' custom-built covered porch to this beautiful home located on the Grandover golf course in Greensboro, NC. We designed the porch to match the Georgian style of the home complete with large 12" circular columns. Read on to learn how we customized every square inch of this elegant covered porch.
Inside the porch, we used all non-rot MiraTEC trim throughout, installed a tongue and groove ceiling, and painted it black. We added recessed lighting with dimmer switches and chose black trim to blend into the ceiling. We finished off the space with three ceiling fans to keep the air moving in this relaxing sanctuary. Because of its high visibility from the golf course, it was imperative to match the new covered porch to the exterior of the home. We blended the new gutters, downspouts, trim, shingles, and columns seamlessly with the existing home.
We were excited to enhance the function of this beautiful Georgian-style home while adding to its existing elegance. If you or anyone you know is interested in adding a custom-built covered porch in Greensboro and beyond, contact us today to discuss your project. We take pride in increasing the function of our clients' existing homes and would love the opportunity to work with you!